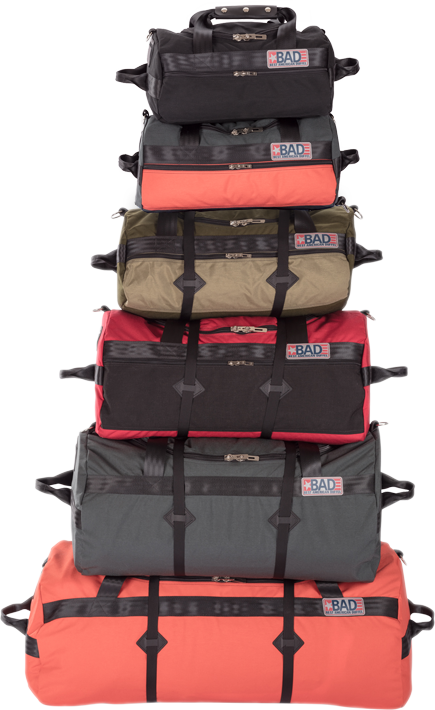 COMPARISON
Model
Length
Width
Depth
Volume
Liters
Micro *
10.5"
7.5"
5"
400.cu.in.
6.6 L
Nº1.5
17"
10"
9"
1550.cu.in.
25.4 L
Nº2
19"
11.5"
9"
1850.cu.in.
30.3 L
Nº3
21"
13"
10"
2800.cu.in.
46 L
Nº4
25"
16"
13"
4200.cu.in.
69 L
Nº5
28"
18"
14"
5200.cu.in.
85.2 L
Nº8
36"
18"
14"
7800.cu.in.
128 L
* Micro Bag Image Not Shown
Anatomy of a
BAD BAG
Why are BAD BAGS the Best American Duffel? Because we craft them with the best materials available. And we construct them to extreme tolerances. Hey, we travel too! We don't want a bag to fall apart. Ever.
Every BAD BAG features:
Rugged but soft 1,000-denier ballistic CORDURA® nylon fabric, urethane-coated for water resistance. A rain/stain repellent is added to the exterior of the fabric
Double-stitching

and taped seams throughout.
Nickel-plated,

welded, no-rust hardware that will never let you down.
Two-inch, 6,000-pound break-strength seat-belt webbing

used througout each bag to ensure longevity, strength, and uniform weight distribution.
Cross-stitched and box-stitched

handles and stress points for extreme durability.
Beefy #10 YKK zippers:

rugged enough to zip even when overstuffed.
Plus such nice touches as:
Flat-bottomed

construction for stable, easy loading.
A large clamshell

opening to make packing and viewing items or, loading bulky items easlily.
Large, truly lockable zipper pulls help keep everyone honest, and ensure that all your gear arrives with you. Plus they're easy to use even when you're wearing mittens.
Two inside pockets

running along the length on each side to keep your gear organized. The SP Model adds two outside pockets.
A wide, soft leather grip with a snap closure

pulls the two main handles together and provides all-weather performance, wet or dry.
The wide, clip-on padded shoulder strap with swivel snap hooks that won't gouge your shoulder.
Sewn-on leather ID holder.

Compression straps with Fastex®

side-release buckles and lash patches com press your load and allow you to lash items like tent poles, rod cases, and foam pads to the outside of the bag.
The BAD BAG #1.5 "Baby Bad"

has a built-in bag in the bottom for storing shoes or dirty clothes after your trip to the gym. The #2 has the shoe bag as well as one inside zippered pocket.